Glossary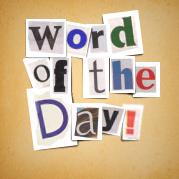 caliper (or calipers)
An instrument used to measure thickness or distance, consisting of two metal or wooden arms with curved, pointed ends, hinged together; or having a fixed and a movable arm on a graduated stock.(pr. cal'e-per)
ukiyo-e
Japanese for 'pictures of the floating world'. Ukiyo-e were popular in the seventeenth to nineteenth-centuries, and depicted kabuki actors, landscapes, and folk tales.
Example: Kitagawa Utamaro's Five Kinds of Ink from the Northern Provinces, early 1790's

ultramarine
Blue pigment originally made from ground lapis lazuli. French ultramarine is an artificial substitute.

undercut
Carving to create an overhang; a recess or awkward angle in the surface or form of a three-dimensional object which would prevent easy removal of a cast from a mold. Molds should be designed to eliminate this problem. Ways to cast objects with overhangs include using piece molds and waste molds.

underdrawing
Drawing preliminary to other work, and incorporated into it, thus deprived of independent artistic value. An example is the underdrawing in fresco and panel painting, such as sinopia and abbozzo.

underpainting
The layer or layers of color on a painting surface applied before the overpainting, or final coat. There are many types of underpainting. One type is an all-over tinting of a white ground. Another is a blocked out image in diluted oil colors that serves as a guide for the painter while developing the composition and color effects.
See Also: abbozzo, sinopia (or sinopie), grisaille

Latest Product Reviews
I love these paints!!! They are rich and very good pigmentation.The price is right, I wish the shipping was less expensive.
- Hadita in Olympia, WA
These tiny staples look so adorable on craft projects and don't overwhelm it. When you use a regular stapler or even the mini stapler they're so big and for a mini project they make the job look bulky. But the tiny attacher little staples make your project look so cute and professional.
- Maureen in Narrowsburg, NY

Olfa
Agree with all the others. I don't go anywhere without one of these in my pocket. So handy when you are opening boxes of stock. Fits into the "fob" pocket of my jeans. Incredibly sharp. Gave them to all my co-workers and they love them.
- deldol in Medford, OR
Free Download for Kids

Download FREE coloring
book pages to color at
home or school.
View Pages »